Mario Monti, the Prime Minister of Italy, has announced that he will resign after the 2013 Italian budget is passed prompting the elections to likely be moved forward to February.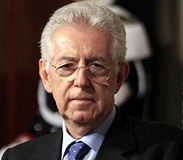 This has continued to weaken the Euro with last week's announcements that German and EU growth is likely to falter moving into 2013 with Spain flirting with a full bailout if their expectations are met.
A good Non-Farm Payroll figure out of the US last week helped to shock the markets to shore up with many analyst's expecting a sharp pull back on the figure, mostly related to Hurricane Sandy but it appears Santa Claus may have had a helping hand with employment in the run up to Christmas.
This is likely to produce another fall in US unemployment figure.
As recent trends suggest, the markets will be awaiting the US Fiscal Cliff negotiations and Wednesday's interest rate decision.
After last week's Autumn Statement from Chancellor Osborne the news continued to be negative in the UK with industrial and engineering data triggering a sell off on the GB Pound.
With the interest rate decision last week to keep rates and QE on hold likely to continue, the markets will be looking for a positive unemployment figure on Wednesday and looking towards the 19th December for the minutes from this month's BoE meeting.
A busy week ahead for interest rates with them reaching over 1.31 EURUSD, 1.61 GBPUSD and below 1.23 GBPEUR earlier in the week then once Mario Draghi hit the wire on Thursday fell back to below 1.29 EUR/USD and pushing GBP/EUR above 1.24 again.