Here in the UK, a survey revealed that construction activity shrank in the previous month to its lowest level in 12 months.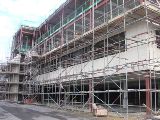 As the wise money markets expect the sector to move into a slower territory, it has pronounced the work needed to be done in order to get the UK economy back on track.
The economy has just emerged from the double dip recession, owing to the surge in activity due to the Olympics. Sterling has managed to hold on to strength trading to highs of 1.6130 as there are political differences in the US over the fiscal cliff.
Today, the markets keenly await George Osborne's fiscal strategy, to kick start the UK economy, as he delivers the autumn statement
As the US fiscal cliff is nearing its enforcement date – 1st January 2013, the S&P 500 closed 0.2% lower as investors speculate that time is running out before a concrete decision can be made, over the US fiscal cliff negotiations.
The bleak sentiment was sparked further by a statement issued by Obama that the Republican offer does not meet the requirements for it to be feasible to reduce the debt of $4bn over the next 10 years.
The US President still stands firm that higher income earners will continue to shoulder the responsibility by paying more tax, as the dollar weakened on the news.
On the other side of the Channel, the euro as a currency remains strong breaking the 1.31 barrier, which gives a clear indication that markets are still buoyant on the Greece bailout package being granted as well as the go-ahead from the IMF to restructure the Spanish banks.
This strength in the euro continues despite Spanish unemployment increasing by a smaller than expected amount in October by 0.1%.
More clear direction will come from a very busy end to the week, as we expect interest rate decisions by the BOE, RBNZ and ECB.
We already had an interest rate decision from Australia, where they cut interest rates by 0.25%- which we posted about yesterday, however the single currency has strangely garnered further strength despite the rate decision.