After Magic Mario Draghi unbelievably talked the euro back into strength at Thursday's press conference the rest of this week is relatively quiet data wise.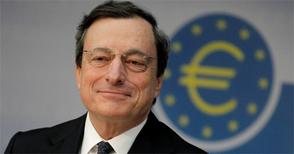 On Tuesday and Wednesday, CPI inflation figure for the Germany and the Eurozone respectively. Also on Wednesday we have the German 10 year bund auction.
Last week, as the US earnings season continued to roll on, the FTSE 100 striking above 6000 for the first time since 2011 and equally volatile swings in the currency markets.
The GBP/EUR fell below 1.21 for the 2nd time in 2 weeks after Euro weakness earlier in the week. GBP/USD hit over 1.61 after initial USD strength and EUR/USD clawed back an early week fall to the 1.29's to finish the week above 1.33.
A busy week for the US Dollar, as the renegotiation of the Fiscal Cliff will continue to come back to the fore; we have investment banking 4Q earnings.
On Tuesday, retails sales are expected to show a slight level of growth. Inflation data on Wednesday is expected to remain on hold at 1.8%.
Thursday's continuing and Initial jobless claims are expected to remain on hold.
In Sterling, we have a relatively busy week as the U.K. continue to play with fire over their E.U. membership and the proposed IN/OUT referendum.
On Tuesday CPI is expected to remain at 2.7%, which is still above the banks targeted 2%. Friday, Retail Sales figures are expected to show a slight increase with Father Christmas lending his hand to the U.K. economy.
Other News, the Chinese GDP figure on Friday morning is expected to show a growth of 7.8% and recent data appears to show the republic's growth slide has finally bottomed out and the country is now returning to more sustained growth