Inflation in Germany hit 2.1% for the month of December and 2% as an average for 2012 according to the Federal Statistics Office.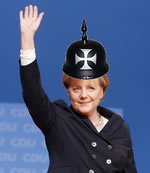 The driving forces behind the figures can be attributed to increases in energy products and alcohol beverages which rose 5.7% and 3.2% respectively over the year.
The numbers sit in line with the Eurozone's 2.2% figure for December and follow last week's comments from the European Central Bank which suggested a rate cut is unlikely.
Higher inflation will support this view and could therefore be seen as euro positive.
Despite the news, the euro has not moved significantly currently trading 1.3367 against the Greenback. EURUSD jumped briefly to 1.3400 for the first time in nearly a year yesterday, and could continue to see resistance by the key figure.
Continuing on the Inflationary tone  the UK is expected to hold CPI at 2.7% for last month but increasing price pressure in the UK may produce a stronger than expected number as the economy recovers from the double dip recession.
As the Bank of England (BoE) sees above-target inflation over the medium term, an increasing number of central bank officials are beginning to adopt a hawkish tone for monetary policy.
The Monetary Policy Committee is no different and looks to be slowly moving away from its easing cycle as the bounce in economic activity raises the view for price growth.
The Pound continues to trade range-bound against the Greenback, remaining between 1.6000 and 1.6200.
Pressure is building over how Prime Minister Cameron will change the UK's relationship with the EU and whether or not the UK will consider a referendum.
Sterling has begun trading in correlation with yield spreads again, with both the 2 and 10 year gilts trading off of their recent highs.