This morning sees the release of the preliminary 4Q GDP number in the UK at 9.30am.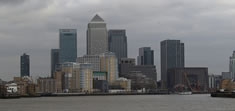 Its fair to say the market is not expecting a surprise to the upside, with Sterling breaching new lows against the Dollar and Euro in the Asian session overnight.
However with the market so oversold if the GDP number does read significantly higher than consensus expectations you sense there is room for a 60-70 pip rally in the Pound.
But it's a big if given the picture painted by recent data flow. It is the key data point today and will set the tone for Sterling trading for the next few days, whatever the number this morning.
In Europe this morning, and probably adding to Sterling's woes, the ECB releases data for the early repayment of the 3-year LTRO money.
The news that major banks are paying back LTRO money early is very euro positive, at least in the near term since it marks a major turning point the euro crisis and reaffirms the recent mutterings of EU officials that the worst of the crisis is over.
Whether or not that is the case remains to be seen, but the currency markets will certainly lap up the positive sentiment should it be revealed at large number of banks repay money ahead of schedule.
US data is light on the ground today but new home sales are released later and are expected to show strong growth and continue to indicate a generalised pick up in the US housing sector. A very positive development indeed.