The US House of Representatives yesterday passed a bill that gives a short term extension of federal borrowing authority and the senate is expected to follow suit in the coming days.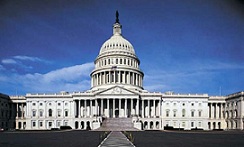 This pushes back the decision until mid July and in the short term clears the risk of debt default for now.
This should help to keep the momentum into risk firm which will also be boosted by Chinese flash HSBC PMI which rose in January and confirms the fifth consecutive month of expansionary PMI.
However a larger swing into risk is being tempered by news that North Korea will conduct a nuclear test 'targeted' at the US following further sanctions.
This has seen EUR/USD so far capped at 1.3350- a level which it has been unable to push cleanly beyond this over the last few days.
On Friday eurozone banks will have the option to re-pay part of the LTRO drawn from the ECB.
According to Deutsche bank this could be euro positive and could provide the momentum for a push up to 1.35 on EUR/USD.
Economic data today is dominated by PMI numbers- so far we have seen a very poor French PMI and a good German PMI which has led to some volatility in EUR/USD.
We have also seen Spanish Q4 unemployment come in at a whopping 26.02%. Later today we have jobless claims from the US.