After a difficult fall for Sterling after dovish BoE minutes were released the Pound started to strengthen on weaker than expected LTRO payments and an impending Italian election in the euroland.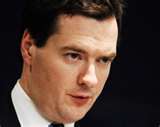 Then came the downgrade to the U.K.'s credit rating, from AAA to AA1 from Moody's, during Friday's trading session to spark another run on Sterling with the currency losing all gains against it major trading partners.
GBP/EUR stalled at 1.16 during the week and finished in the 1.14's, with EUR/USD struggling to stay above 1.31 after a small range traded week and GBP/USD going as low as 1.5131.
A poor end to the week has spelled a difficult start during Asian trade for Sterling as the currency continues to struggle.
Chancellor George Osborne testifies about Banking Standards today to parliament with curve ball's about the recent downgrade expected which will give him plenty to think about for his next statement in March.
Wednesday's adjusted GDP figure is expected to remain at -0.3% in line with preliminary data from earlier in the month.
Over in the uS of A- after continued strength last week, markets have a few things to note this week.
Tuesday, US New Home Sales are expected to continue their positive rise.
Wednesday, Durable goods orders expected to show minimal growth at 0.2% from 1% last month.
Pending Home sales also expected to show growth at 1.6% versus a contraction last month. Thursday, the Initial jobless claims figure is expected to show a minimal fall and the GDP figures is expected to come in at 0.5% versus contraction last quarter.
Friday, sees the final Michigan Consumer Sentiment figure and ISM manufacturing index.
In euroland- after last week's euro strength on German business Sentiment, the Italian Election has bought fears back to the single currency as the possibility of disgraced ex-PM Silvio Berlusconi returning to power could become reality today and possibly undo the austerity measure put in place by currency Prime Minister Mario Monti.
The election will be closely watch throughout the day and Monday evening as speculation and results emerge to indicate who will take the reigns.