In Asia trading the wise money markets move was driven from the 'fear gauge' spiking in the wake of increased risk aversion.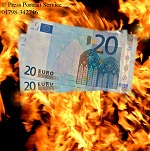 Follow through looks limited, however. Investors seem calmer as the fear following the news of levy of bank deposits in Cyprus as part of a €10 billion bailout for the country, eased.
No sign of bank runs elsewhere in the Eurozone and the go ahead to make the deposit levy more progressive (ie a higher levy on bigger deposit holders) while retaining the total amount at around EUR 5.8 billion, have helped to calm pressures.
Nevertheless, today's delayed vote in Cyprus' parliament to authorise the levy could incite more tension particularly as the result is too close to call.
Therefore the spot light will remain firmly on developments in Cyprus, with economic data taking a back seat.
The highlights on the data front include likely gains in the German March ZEW investor confidence survey and US February housing starts and building permits.
Currency volatility appears to be restricted ahead of the Cyprus vote and then the Fed FOMC outcome tomorrow.
The Single European currency remains the weakest link, with gains in the currency likely to be sold into although support around EUR/USD 1.2876 is likely to hold if the Cyprus vote flops to recommend the deposit levy.
If this is the case, expect further sharp pressure on the Euro and a much bigger drop in the currency and risk currencies overall. European and Cyprus officials would have to return back to discussions but during the period of uncertainty panic would arise.
The Reserve Bank of Australia minutes released overnight maintained that the door remains open for further policy rate cuts although they did note that the economy is responding to previous cuts with the impact having further to run.
There is little in the minutes to suggest further easing is imminent. The RBA minutes are unlikely to dent the Aussie which remains buoyant having managed to remain well supported even despite the Cyprus panic.