The Bank of England Governor Mervyn King delivered a surprisingly upbeat assessment of the UK economy in an interview yesterday.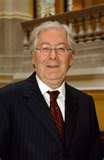 He suggested after stripping away the effects of North sea oil production and construction, the UK economy grew at 1.5 per cent in 2012 and is forecast to grow at 1.2 per cent this year.
Mr King also suggested the Bank was not trying to talk down the Pound and that after recent falls is now 'properly valued'.
Very interesting indeed, a complete U-turn from extremely downbeat Inflation report last month and the news has lifted the Pound significantly since yesterday afternoon.
Next week's Bank minutes become even more intriguing given Mr King voted for further asset purchases last month.
Will his recent comments be a smoke screen for further expansion of the asset purchase scheme or does he really think the UK economy is back on track?
Is he just offering an upbeat assessment because he is at the end of his tenure?
With the Budget also due next Wednesday, next week is going to be a busy one for the market.
Mr King hinted he had been in talks with the Chancellor over supply side reforms. He refused to go into any details but one can expect some of these to be announced on Wednesday. The Chancellors hand is being forced by economic stagnation.
Next week also sees UK jobless claims released on Wednesday and rounding off one of the busiest days of the trading calendar this year the Federal Reserve rate decision.
With the recent US data increasingly positive, thoughts are now turning to the Fed hinting that policy may have reached its limit and indicating discussions are beginning on the withdrawal of stimulus.
The Dollar is increasingly trading like we saw before the financial crisis, but we are entering unchartered territory for currencies as central banks begin to withdraw money from system.