There were no changes in policies from either the Bank of England or the ECB at their most recent rate meeting yesterday.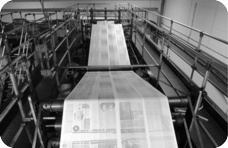 The Bank of England was widely expected to expand the asset purchase scheme in the face on a continued bleak outlook for the UK economy and another tough budget from the UK government.
Sterling certainly traded as though further QE was expected in the build up to the announcement, rising sharply against the Dollar and Euro after the decision of no change was announced.
Mario Draghi did his usual verbal gymnastics, saying a lot without really saying anything meaningful, pushing the euro around significantly when speaking but leaving it relatively unchanged on the day.
The main event yesterday was in Japan where BOJ head Haruhiko Kuroda announced unprecedented monetary policy stimulus sending the Yen and Japanese government bond yield sharply lower, a trend that has been repeated in Asian trading this morning.
We will have to wait and see whether the new stimulus plan is successful is raising domestic inflation towards the 2% target.