When the highlight of the week is someone with a fat finger at the Fed accidentally releasing the latest minutes ahead of schedule, you know it's been quiet.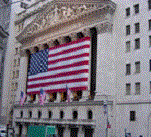 The main details of the minutes concerned the Fed's continuing asset purchases, and in particular that the Fed is trying to get across to the market that it should expect asset purchase to vary depending how the outlook for the US economy develops.
This "taping off" guidance is a slightly tweak to existing policy guidance, the line before Wednesday's minutes was that QE would come to an end when labour markets improved substantially.
By suggesting varying the $40 billion per month in agency MBS and $45 billion per month in Treasuries, policy is better defined than some vague notion of "substantial" improvement.
Japanese monetary policy is also front and centre in the markets outlook at the moment.
The Yen has declined significantly across the markets after the original QE decision was announced last week. To recap, the announcement represents QE on a completely different scale to previous policy by the Bank of Japan.
Almost $1.5 trillion Dollars will be pumped into the Japanese economy within two years. In spite of the huge scale of asset purchase, the new BoJ governor Harauhiko Kuroda suggested yesterday that the two per cent inflation target will be pursued flexibly.
In central bank parlance that means they are willing to embark on more easing if necessary. We move further into the unknown.