Recent comments from the IMF that Britain should rethink its austerity policies bring it into direct opposition to the Chancellor George Osborne's current stance that fiscal tightening is here to stay.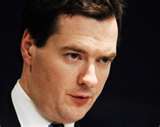 A high profile stand-off is on the cards. Fair play to the IMF for changing its mind in light of the evidence, data has shown forecasts to be far too optimistic and economic performance since the financial crisis woeful.
Output is still three per cent below its 2008 peak. Adding to the Chancellors woes is the widely publicised critique of the Reinhart-Rogoff work that was heavily cited by austerity advocates.
Researchers were unable to replicate their results and it emerged errors in excel and omission of certain countries from the sample is now throwing their conclusions into doubt.
At least it seems Mark Carney, the incoming Bank of England chief, is on Osborne's side. In prepared remarks in Washington yesterday Mr Carney suggested all a central bank can do is provide the conditions for growth and it is up to the private sectors to deliver that growth.
Less welcoming will be Mr Carney's description of the UK as a crisis economy along with the eurozone.
The sheer weight of news has done little for Sterling, which trades slightly higher against the Euro and Dollar in early trading this morning
Next week should be a busy one with the all-important 1st quarter GBP numbers due in the UK on Thursday.
Britain is expected to avoid a triple dip recession by the skin of its teeth after the recent cold snap depressed high street activity in March. US GDP is also due on Friday showing the divergence between both sides of the Atlantic underway.