It was a bad start to the day yesterday for the Pound after it was confirmed that UK unemployment edged higher to 7.9%.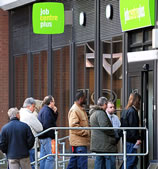 The Pound dropped against the US Dollar and the euro on the data which followed confirmation on Tuesday that inflation has remained stubbornly high, with higher unemployment and inflation providing a negative mix.
We also had confirmation of the Bank Of England minutes which once gain gleaned a divided committee with a vote of 6-3 to keep QE as it is. Today we have UK retail sales data which is also expected to disappoint and could spell further weakness for the pound.
The fall in the Pound yesterday set the tone for an extremely volatile day in the money markets.
Later in the day the euro was rocked by comments from ECB member Weidmann the Bundesbank president who stated that the ECB could cut rates if data suggested this was necessary.
Given that economic data has been weaker lately this set the precedent that a rate cut could be on the cards. The Euro fell sharply against the USD on the comments and has maintained its lows so far in today's trading.
Economic data outside Europe has also started to turn negative such as in China and the US and this adds to the view of a rate cut at the next meeting.
The overall sentiment with weaker economic data of late has led to a risk off sentiment in the markets. Equities have fallen and the slide in EUR/USD emphasizes this trend which looks set to continue through today.
Focus for today will be on Europe and feedback from Italy which seems to have come to agreement on a presidential candidate with Franco Marini looking likely to get the nod.
In addition the markets will also be looking at any feedback from the G20 meeting which starts in Washington and in particular for any criticism of Japans recent policy actions.