Mervyn King has signed out with an upbeat final quarterly inflation report with growth forecasts increased and inflation forecasts scaled down.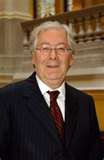 King expects to see unemployment gradually come down which backs up the official data today which showed unemployment levels falling.
The big positive is the expectation that growth expectations are looking rosier and at the same time inflation is softening, previously it has been the other way around.
The report is good news for consumers that have been hit with persistently high inflation and no end in sight for a return to growth.
Although the report gave a short term boost to the Pound on the upbeat growth forecasts, this was short lived as overall we expect the pound to fall in line with a more aggressive Bank Of England as Mark Carney replaces Mervyn King as Governor.
The sparks of life are now evident but until we see the UK economy truly fire into life we can expect the Bank Of England to be proactive and more aggressive which is likely to weaken the pound.
In other news Japanese preliminary GDP beat estimates and this help to continue the positive risk sentiment in Asia until it was dampened by weaker Japanese earning reports.
In the currency markets the Euro came under renewed pressure against the USD as speculation increases for a further rate cut from the ECB following yesterday's disappointing Q1 GDP data.
In addition the US Dollar is making gains after hints that the Fed is moving closer to exiting their QE strategy.