European stock markets have fallen sharply as senior EU officials have discussed a possible Greek default for the first time.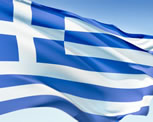 The Athens stock exchange closed nearly 6% lower, while Germany's Dax and France's Cac 40 closed more than 1% lower.
Stocks in the National Bank of Greece fell by more than 10%, while Piraeus Bank fell more than 11.5%.
According to official sources quoted by news agencies, senior eurozone officials meeting in Bratislava on Thursday held their first formal talks on the possibility that Greece might default on its debt payments.
Also on Thursday, officials from the International Monetary Fund (IMF) pulled out of talks with Greek politicians in Brussels, citing "major differences".
Greece is seeking to avoid defaulting on a €1.5 billion debt repayment to the IMF by the end of June.
Shares on the Athens Stock Exchange had soared on Thursday amid renewed optimism about Greece's talks with its creditors.
The index climbed more than 14% – the best performance in several weeks, but the IMF's withdrawal has dampened investors' moods.
On Friday, Jeroen Dijsselbloem, president of the Eurogroup of finance ministers, said a deal without the IMF was "unimaginable".
However, German Chancellor Angela Merkel urged all parties to continue negotiations.
Speaking at a business conference in Berlin, Ms Merkel said: "Where there's a will there's a way, but the will has to come from all sides, so it's important that we keep speaking with each other."
In London shares continued their downward slide as fears over Greece's ability to negotiate a settlement with European creditors dented sentiment.
At the close, the benchmark FTSE 100 index was down 61.82 points, or 0.9%, at 6,784.92.
The top riser was Royal Mail, up 2.78%, recouping some of Thursday's losses.
The postal services company had fallen 4.5% on news that the government had sold 15% of its remaining 30% stake in the company, raising £750m.
The biggest faller on the 100-share index was Johnson Matthey, down 3.1%. On the FTSE 250, platinum producer Lonmin fell 7.1%, compounding earlier losses in the week, after mining and commodity firm Glencore distributed its 23.9% stake in the company to investors.
On the currency markets, the Pound was up 0.41% against the Dollar at $1.5581 and up 0.25% against the euro at €1.3818.