The Bank of England's has cut interest rates by half to a new record low of 0.25%.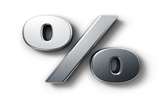 In addition the Bank of England (BOE) launched a massive stimulus package designed to save the UK economy from recession.
The Bank of England's Monetary Policy Committee (MPC) voted unanimously to slash interest rates to an all time low; they also hinted that it might cut rates "close to but a little above zero" and could unleash more Quantitative Easing if needed.
With a 60 billion government bond buying program and a new initiative to buy 10 billion pounds of corporate bonds, the Bank of England hope to support the necessary adjustments in the UK economy following Brexit.
Mark Carney and the Bank of England think that the outlook for growth has "weakened materially" and they anticipate that the pain will be felt in 2017 as their Quarterly Report shows 2017 forecast slashed from 2.3% to 0.8%, the largest downgrade to its growth forecast to date.
Inflation is forecasted to increase thanks to the weakness of the pound, with the Central Bank now anticipating to hit their 2% target in Q4 of 2017 as opposed to Q2 of 2018 as previously anticipated.
The unemployment rate is also expected to rise to 5.4% in Q3 2016 compared to a previous forecast of 4.9%.
From the US to Europe, other data to come
After Super Thursday, the market will look at the US non-farm payrolls. Following the strong increase in June, a majority of economists are now expecting a weaker number with job growth around 180,000 as Wednesday's ADP employment report showed signs of softness in the employment components of both ISM reports.
Looking at the day ahead the rest of the data due out in Europe will be overshadowed. Germany factory orders numbers for June, the latest trade balance reading for France and the latest UK house price data are the main data this morning before the market turns its eyes to the July employment report in the US.