The European Central Bank has announced yesterday its commitment to extend its quantitative easing programme to the end of 2017 and longer if needed.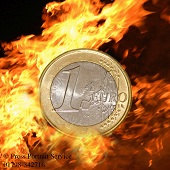 Indeed, its governing council decided to extend by nine months its asset purchase scheme, which consists in buying assets from banks with newly created money. However, to try and help drive inflation and growth back up, the ECB will reduce the size of monthly bond purchases by $20bn to Ä60bn; a move that confounded the markets.
Draghi admitted that the decision had a ìvery, very broadî support and implied that he couldnít get unanimous backing for the plan with Jens Weidemann from the Bundesbank likely to have opposed such move. Despite such move being greeted as tapering of the unconventional QE programme, Draghi was adamant to negate this; he left some City experts a little confused as he stated ìThe natural way to look at a word like that is to have a policy whereby purchasers would gradually go to zero, and thatís not been discussed or, as a matter of fact, itís not even been on the tableî.
The euro weakens against the US dollar and Sterling
As a result, the single currency weakened against the US dollar and the pound as markets digested an unexpectedly dovish outlook on monetary policy hinting that QE could go on for much longer if required. This provided a welcome boost to European stock markets as investors cheered the ECB decision to remain in ìeasing modeî, with the promise of more cheap money certainly putting trading floors in a Christmas mood. During his press conference Mario Draghi also warned against complacency over the impact that Brexit vote and Donald Trumpís election win will have on the Eurozone and the financial markets.
Data released yesterday and data to come
The ECB was the overwhelmingly dominating theme in markets yesterday. In the US, Initial Jobless Claims were reported as being down to 258k. In Europe, the only data worth of note came from France where the Bank of France business sentiment reading for November improved.
Looking at today, the calendar is light as we head towards the weekend. This morning, in Germany, we'll get the October trade report, and in France, we will receive October industrial production; in the UK, weíre expecting the trade data. This afternoon, in the US, final revisions to the October wholesale inventories report and preliminary University of Michigan consumer sentiment survey are scheduled for release.