A disappointing day for risk assets yesterday threatens to advance further.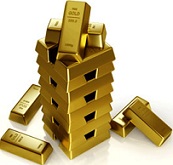 Weaker than expected data from China and the US dragged on market sentiment supporting the theory that the worldwide economy is repeating the pattern of Q1 strength followed by weakness over the remainder of the year.
Growth fears aided to worsen the drop in gold prices with the valuable metal plummeting by 15.5% this month alone whilst weighing heavily on other commodity prices.
Data releases today include CPI inflation in the US, Eurozone and UK alongside the German ZEW investor confidence survey, US industrial production and housing starts.
The Eurogroup and Ecofin statement of an extension of Irish and Portuguese loans and the disclosure that Cyprus will need even more funds than previous estimates (EUR 23 billion compared to EUR 17.5 billion previously) has been taken in its stride by markets.
Given market sensitivity to weak data any discontent will strengthen the risk off tone but this appears doubtful as the data overall is expected to be somewhat healthier.
The Aussie was struck by weaker Chinese data releases and worsening in risk appetite.
While the drop has been sharp over recent days Australian Dollar is unlikely to fall much more, with an abundance and sufficient appetite for the currency around 1.0300. Nevertheless, AUD/USD has dropped below its 100 day moving average level 1.0414 – a breach of which threatens to mark a stronger downward move.
Finally, UK Inflation is expected to rise another 2.8% in March and persistent price growth may increase the demand for Sterling as it diminishes the Bank of England's (BoE) space to expand on QE.
As the central bank expects a slow but sustainable recovery in Britain, above-target inflation should keep the MPC on the side-lines, and we may see a growing number of BoE officials adopt a more neutral to hawkish tone for monetary policy as the Funding for Lending Scheme continues to work its way through the real economy.