Today is UK Budget day for George Osborne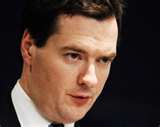 Tonight brings us the US Federal Reserve (FOMC) interest rate decision. The FOMC are not expected to change interest rates tonight, but the meeting will give clues about the timing of the next move.
The most important aspect of tonight's meeting will be the 'dots' – this closely watched graph shows the central bank's forecast interest rates.
It's anticipated that the rate run will contain another two or three hikes this year and four next year. The FOMC could present June as an opportunity to hike, and if so, this is likely to feed into USD strength. Overall, markets expect that the meeting's sentiment will lean to the hawkish, with a firm focus upon the performance of global markets and the domestic labour market.
A day full of economic data
Before we get to the FOMC meeting we have plenty of economic data to digest. US CPI inflation data is projected to increase by 0.2% in February, and remain unchanged at 2.2% for the year. We also have US industrial and manufacturing production data, which is expected to weaken.
From the UK we have key unemployment data today. The unemployment rate is forecast to remain unchanged at 5.1%. Market focus will be on average earnings data; although numbers were flat in January there is optimism that wages should be now moving higher.
Finally, we get to hear Chancellor George Osborne present the Budget today. The Pound has softened in the run up to the announcement, over concerns for the potential aggressive fiscal tightening that could be delivered.