Yesterday started with a big surprise as UK Chancellor George Osborne announced a hike in his special tax on banks.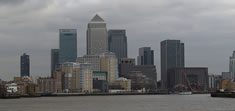 Mr Osborne plans to raise an extra £800m, but with the deal announced just days before bank bonus season begins in the city, political rather than economic reasoning seems to be governing motive behind the announcement.
Sterling reacted by falling all day against the Dollar and Euro, and the theme looks set to repeat itself and follow the line of least resistance after disappointing trade balance data earlier this morning and the lack of any clear direction going into the Bank of England rate decision tomorrow.
Rumours of a symbolic rate hike by the Bank are swirling (as they do every month) but one would expect Sterling to already have reacted if there were any substance to it.
No change to rates and the QE program is the widely expected announcement and with the bank wheeling out the Hawks last week for a media offensive on inflation expectations, one would think they would wait to see if this has had the desired effect rather than shocking the markets with a rate hike.
Three Federal Reserve members took to the dispatch box last night, peddling the party line that QE2 will be completed as planned and that further stimulus will probably not be needed.
The announcement pushed the yields on US Treasuries higher and was probably the reason for the Sterling retracement against the Dollar and the move through 1.36 in the Euro-Dollar pair.
We are in for another quiet day, but in terms of what to look for this later this week for the Dollar, Fed Chairman Ben Bernanke speaks this afternoon and we have the weekly jobs number on Thursday.