Another week begins, and the spotlight passes from one central bank head to another – Sir Mervyn King of the Bank of England.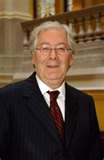 In the past two weeks the markets have watched Fed Chairman Bernanke speak about interest rates and possible further quantitative easing.
Last week ECB President Trichet used language that indicated rate rises are just around the corner (sending the Euro markedly higher against the Pound and Dollar) and this week it is the turn of Bank of England and Mervyn King with the monthly MPC meeting scheduled this week.
After last month minutes showing three members voting for a rate rise, Sterling has enjoyed a bounce against the Dollar – if not the Euro – and if the Bank does decide to raise rates we can expect further gains.
However, King seemed to rule out any symbolic rate rises in the inflation report last month and given the current spike in crude oil stemming from unrest in the Middle-East, the doves on the MPC will be stressing that the UK economic recovery cannot be put in jeopardy by raising rates.
King has also drawn criticism from the city with comments over the weekend that city institutions are too short-term orientated.
Given that Mr King once said he thought central banking should be a dull subject, the thinking may be that he seems to be overplaying his hand and that could hurt the credibility of the bank if he is seen to be overly political.
The ECB meeting has been the catalyst for the recent Euro strength, but any rate rise in the Eurozone would probably only be beneficial for the Germans.
The struggling periphery PIGS nations will certainly not welcome any move – especially the Spanish whose mortgages are prices from one year Euribor – which jumped 14 basis points immediately after Mr Trichets announcement.
In the face of rises oil prices, which acts as a global tax, raising rates at the behest of the Germans risks derailing any sustainable recovery in nations trying extremely hard to get their public (and private) finance back in order.