Risk assets faded particularly in Europe as a result of new fresh political strains in Italy and Spain.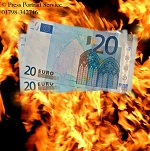 Election uncertainty in Italy increased as former PM Berlusconi plots a return and government corruption allegations in Spain hit equity markets and peripheral bonds.
Consequently the EUR/USD fell 126 points from its highest close in 14 months on Friday, hurt by comments from the French finance minister warning about the dangers of euro strength.
Poor Spanish employment data did not help matters while service sector confidence indices in the eurozone today will also stoke further concerns exposing both continued contraction for most countries and divergence in the bigger economies, namely Germany and France.
Caution will succeed in the short term as markets start to query the legitimacy of the rally in risk assets listed over recent weeks. EUR/USD downside will be limited to support around 1.3458 in the near term.
Overnight the Royla Bank of Australia decided to maintain interest rates at 3.0%, after fresh growth concerns and they see potential to ease policy further.
At the last month's meeting, rates were cut 25 basis points to 3% mentioning fears over the Fiscal situation in the US, China growth as well as European weakness.
The Aussie rallied against the US Dollar after the statement was anticipated and was priced into the currency movements prior to release.
It was a slightly different tone in today's statement; the Reserve Bank Governor Glenn Stevens noted that the US appeared to have evaded a fiscal contraction alongside growth in Asia steadying which provided comfort that the region was improving.
The RBA did however, make reference that the Australian Dollar was higher than expected, and that inflation at its current state would 'afford scope to ease policy further'.
Today in the UK we have PMI Service data for the month of January, where the reading is expected to be 49.5 up from 48.9 in December.
The survey summarises the opinions of Purchase Managers on future demand and orders and therefore a view on the sector as a whole.
Therefore a higher PMI suggests that material purchases are increasing and the economic outlook is positive.
Elsewhere we have Eurozone retail sales which are expected to show a fall of -1.4% for the month of December and could be a key number for the Euro's performance in the early session.